EDIT MAIN
Go Romans!
---
Welcome to the Rome City Elementary School – home of the Romans! Our goal is to Inspire, Engage, and Empower! We strive to prepare the elementary students of East Noble School Corporation with the future in mind.
If you are a member of Facebook, please like us to catch news right in your Facebook newsfeed.
THE FUTURE READY DISTRICT PLEDGE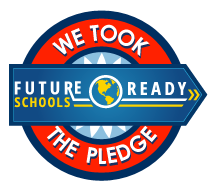 East Noble School Corporation has taken the Future Ready Pledge.
The Future Ready District Pledge, developed by the U.S. Department of Education in October 2014, is a commitment by district leaders to work with educators, families, and community members to make all schools in their districts Future Ready.